Table of Contents
Theology
Theology is simply the study of God and God's relation to the world. Theology is essential to life, both eternal life…
John 17.3: And this is life eternal, that they might know thee the only true God, and Jesus Christ, whom thou hast sent.
…and daily life.
2Timothy 3.16-17: All scripture is given by inspiration of God, and is profitable for doctrine, for reproof, for correction, for instruction in righteousness: That the man of God may be perfect, thoroughly furnished unto all good works.
---
Your Eternal Life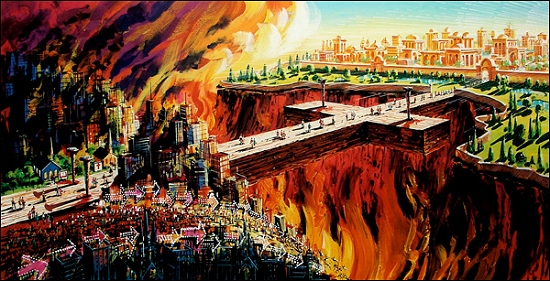 There is nothing more important than your eternal life–your salvation! In 100 years none of us who are reading this will be alive. Where will you spend eternity?
---
Your Christian Life
If you are a Christian, the most important thing you can do to glorify God and enjoy Him forever is to learn the Bible and do what it says. Here are some simple suggestions on a basic system of Bible study that will help any Christian grow in the faith:
Read your Bible (start a book, read at least four pages a day until you finish that book, and then start a another).

Mark

your Bible while you read it (

examples

).

Write

down one thought from your Bible reading (choose one thing from all that you marked; get a

good notebook

).

Pray about that one thought (talk to God about it, and then about anything else you want).
If you read just four pages a day, you can read through the Bible in one year (and then do again next year!).
---
About
I'm just a normal guy with a normal job. In my spare time I like to study my Bible, preach on the street, and preach or teach in a church when I'm invited. That's it.
If you'd like to talk in person, it'd be best to meet at church. I live in the Kansas City area, so send me a message.

You can listen to some of recent studies on my

podcast

.
start.txt · Last modified: 2021/03/04 01:34 by gregkedro
---